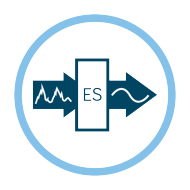 Savings in electricity consumption can be achieved by various approaches. The most common approach is the replacement of old technology by energetically less expensive, new technology. Less effort is invested in the management of technology on the basis of optimizing the energy consumption or regulating the quality of electric energy to achieve its optimal consumption. However, by implementing energy-efficient devices in your installations, an attractive payback period of a green investment and sustainable energy savings can be achieved.
Our company can provide you with complete services in the detection, design, delivery, monitoring and servicing of energy saving measures.

One way to solve the savings in electricity consumption is to manage the optimization of the quality of electric energy. The quality of parameters like network voltage, voltage phase asymmetry, harmonic distortion and the network power factor, has a significant impact on the behavior of devices that are connected to the electrical network. The frequently occurring low quality of the electric energy, i.e. deviation of the electrical parameters from limits defined by standards, causes not only an increase in consumption (losses), but also a subsequent overheating of engines, transformers and lines (wires), which reduces the life of the devices themselves. More marked deviations in the network often cause a service outage or device failures occur. Dead times, unnecessary increases in the required power output, frequent maintenance and reduction of the life of devices cause a significant increase in costs and uncompetitiveness of the company.
Energy Saver is a device whose task is to ensure the quality of the supplied electricity for appliances connected to its output. Optimal parameters of the electrical system parameters optimally reduce the cost of energy consumption and increase the life of the devices and components of the electric circuit.
The Energy Saver technology is based on the statically controlled switching of the taps of a specially wound transformer with a +/- 1% (0.5 %) tolerance of the voltage reference value control with a response to a state change of up to 20 ms. The reference value of the required voltage is achieved by means of fast control processes, both in the case of overvoltage and in case of undervoltage (a tolerance from -10 to +20 % or from -60 % to +40 %, with a correction of voltage fluctuations at a speed of up to 500 V/s). Supplementary features of the Energy Saver device are: a reactive energy compensation unit with automatic contactor control or a thyristor-controlled continuous compensation unit (response 5-20 ms) and a passive or active higher harmonics filter (distortion control unit). The Energy Saver equipped in this way can handle voltage stabilization to an optimized level for appliances (usually 220-230 V) and phase voltage asymmetry, regulate the network power factor between 0.99 and 0.95 and reduce or completely filter out the harmonic current distortion caused by the use of non-linear loads (UPS, frequency inverters, computers, …). Thanks to the Energy Saver device, it is thus possible to achieve savings in electricity consumption at a motor load of 6-12 %, at a combined load of 8-18 % and at a light load of 10-22 % or more. These electricity savings when Energy Saver is installed depend on the quality of the electric energy of the building at hand and the consumption taken off, so that every design and implementation of the Energy Saver device is conditional upon the analysis of the electrical network by an analyzer (a servicing service provided by our company). Part of the analysis is a professional consultation with our technician who will assess the current state of the devices and of the network and will propose the optimal solution. The result will be the subsequent implementation of saving measures with a guarantee that the investment will pay back.
Since each Energy Saver unit is tailored to the needs of the customer, we are able to achieve an optimized payback period for operations with a consumption of 2 to 3200 kVA (or as requested).
The product is protected by its own overload and overcurrent protection, voltage surge protections at the inlet and outlet of the device. By an integrated manual and automatic bypass, Energy Saver is able to provide unrestricted operation in the case of any internal malfunction.
With more than 20 years of service life verified in real life, its implementation into one's energy system is a clear win in terms of the payback period and energy savings.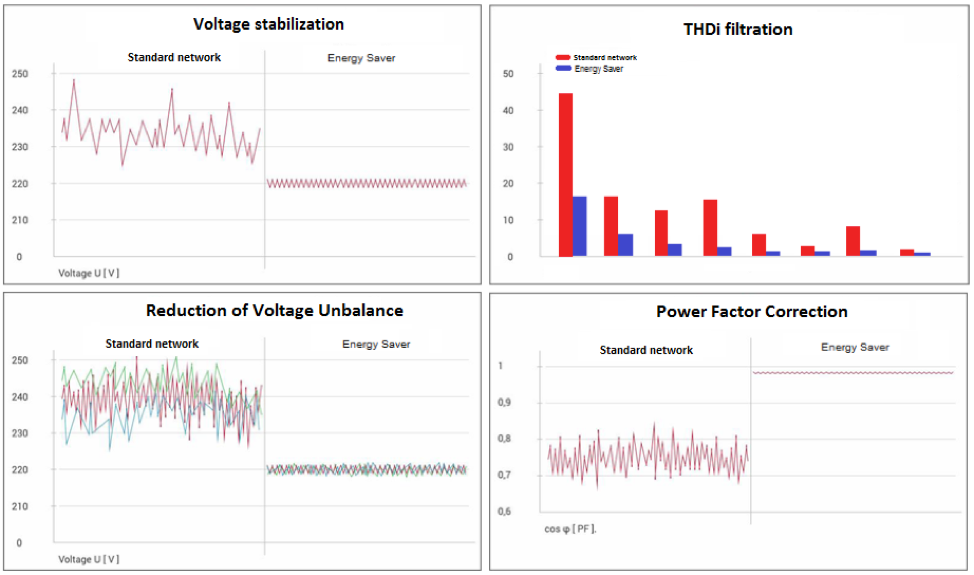 /// Lighting
Public lighting, production halls, sports halls, stadiums, parking lots, airports, roads.

/// Industry & Energy
Industrial plants, production plants, chemical plants, cement plants, foundries, iron and steel works, gas stations, heating plants.

/// Public sector
Government administration buildings, city offices, schools, kindergartens, cultural and sports centers, hospitals.

/// Agriculture
Biological waste, biomass, farms, poultry house.

/// Commercial buildings
Wellness centers, water parks, shopping centers, hotels, restaurants, coffee shops, pensions.

/// Residential buildings
Houses, development projects.
The experience we provide when analyzing the parameters of electric energy guarantees to our customers the delivery of an appropriate solution to save the energy consumption of the applications being operated.
Energy Saver brings you lower costs of consumed electricity and an extended service life of your machines and equipment.

| Customer | Type of load | Current | Saving |
| --- | --- | --- | --- |
| MÚ Prostějov | Public Lighting | 32 A | 16,06% |
| MÚ Uherské Hradiště | Public Lighting | 44 A | 21,86% |
| Kongresové centrum Praha, a.s. | Ventilation | 32 A | 16,28% |
| SOU opravárenské Králiky | Combined Load | 145 A | 15,36% |
| Domov u Fontány Přelouč | Combined Load | 289 A | 9,93% |
| SPŠ stavební Rybitví | Combined Load | 289 A | 14,40% |
| ISŠT Vysoké Mýto | Combined Load | 173 A | 11,77% |
| Domov pod Hradem Žampach | Combined Load | 218 A | 9,16% |
| Magistrát mesta Jablonec nad Nisou | Combined Load | 218 A | 13,24% |
| Magistrát mesta Jablonec nad Nisou | Swimming Pool | 360 A | 10,74% |
| Kroměřížské technické služby | Public Lighting | 65 A | 18,30% |
| Statutární město Přerov | Combined Load | 108 A | 12,78% |
| Domov pre seniorov Zázrivá | Combined Load | 2×174 A | 11,12% |
If you would like us to prepare for you a quotation or if you would like to know more about the solutions offered, do not hesitate to contact us.