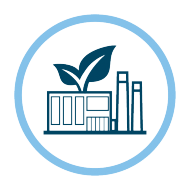 As much as 38% of the world's energy consumption is used for the construction and above all operation of buildings. The largest share of this consumption is for heat, mainly due to heat leakages. One of the standard measures to reduce heat losses in buildings is the installation of thermal insulations.
The "Green Roof" project presents a special thermal insulation not only for the roofs of industrial halls, buildings and houses, which meets strict ecological criteria and ensures not only thermal protection, but also retention protection and acoustic protection of buildings. The material for its production is the waste part of the fabric used for the production of car parts.
Residues that arise in the production of textile products in cars, but also the textile part obtained from the disposal of worn-out cars, are products that are hard to tear up, therefore they often end up in special incinerator plants.
This material must meet the difficult conditions imposed on the automotive industry. Out partner company has decided to make use of the material's quality, resistance, durability and other features, having developed a fully environmentally friendly processing technology for processing this material. The result is the attractive multipurpose insulation material STERED.

The properties of the insulation offered are:
strong acoustic insulation properties,

thermal insulation properties,

it is hygienically harmless,

it is mechanically and chemically highly resistant and stable,

it is resistant to water and salts,

it is nontoxic, resistant to molds and rodents,

it features a water retention function (rainwater retention capacity),

– it features an anti-vibration function (vibration damping in a pressing shop, in drives, …),

it is formable to desired forms,

it has a long life,

it is re-recyclable.
If you are interested, we can assist you in drawing up a comprehensive offer tailored to your needs.
In cooperation with our partner, the producer of STERED products, we are able to provide you with insulation solutions for all types of buildings and halls.

/// Industry & Agriculture
Solutions for noise reduction in production halls, solutions for water retention from the roofs of spacious halls, thermal insulation of buildings.
///Commercial buildings
Solutions for retention of water from the roofs of spacious buildings, thermal insulation of buildings.

/// Public buildings
Solutions for retention of water from the roofs of spacious buildings, thermal insulation of buildings.

/// Residential buildings
Insulation of buildings.
If you would like us to prepare for you a quotation or if you would like to know more about the solutions offered, do not hesitate to contact us.